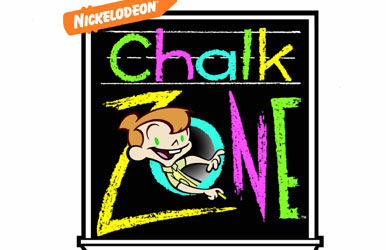 Rudy Tabootie's got the chalk – magical chalk that allows him to enter a world where everything ever drawn on a chalkboard goes to live. Rudy and his pals' best friend Penny Sanchez and Rudy's own blue and white chalkboard creation, Snap shows the true meaning of the word teamwork as they draw their way in and out of adventure in a whole different dimension.
Created By
Bill Burnett
Larry Huber
Stuff
Click here to read about ChalkZone on Wikipedia.
Click here for the ChalkZone title card gallery.
| | |
| --- | --- |
| | To see the great stuff the ChalkZone crew wears around the studio CLICK HERE. |
Episodes
Click here for ChalkZone on TV Tome
Season 1
1: Rudy's First Adventure / Rudy's Story / Bushel Full of Yum
2: French Fry Falls / Amazin River / Gift Adrift / Escucha Mi Corazon
3: The Skwarl / Pie Day / Secret Passages / We're in the Zone
4: Snapmobile / Rudy's Date / Future Zone / Mumbo Jumbo Jump
5: Snap out of Water / Two Left Feet / Rudus Tabootus / All Day Jam
6: The Wiggies / Rapunzel / Hair to Stay / Coming to Life
Season 2
7: Hole In The Wall / The Terrible Two-and-a-Halfs /
Superhero Snap / I'm Back and Bluer Then Ever
8: Disappearing Act / Portable Portal / Snap on Tour / Making Faces
9: Waste Mountain / Madcap Snap / What's My Line? / Putting on the Dog
10: Pop Goes The Balloon / Snap Builds His Dream House /
Fireplug Ballet / There You Are
11: The Heist / Battle of the Hands / Chocolate Brunch / Oh My My
12: The Smooch / Power Play / All The Way To The Top
13: Pumpkin Love / Snap's Nightmare / Irresistable / Please Let Me In
Season 3
14: Chalk Queen / Cleo's Secret / Snap's Wishy Washout / Chunky
15: Draw and Let Draw / The Towering Wilter / Snapsheebah / Flashlight
16: Taffy / Follow the Bouncing Bag / Nighty Note / Dream a Lotta
17: Lost In Chalk / Asleep at the Chalk / If You Can't Beat 'Em, Eat Em / Scat
18: Water, Water Everywhere / RV Having Fun Yet? /
The Doofi / Lollypoppian Rhapsody
19: That Thing You Drew / That Sinking Feeling / Insect Aside
20: Let's Twister Again / Legend of the Golden Worms /
Beanie Boys to Men / Good to Go
21: Double Trouble / Midnight Train
22: Indecent Exposure / My Big Fat Chalk Wedding /
Rap-A-Present / Greetings From Greenland
23: Skrawl's Brain / Big Loo / Duck Snap Duck/ The Happiest Song in the World
24: Mother Tongue / Going Eyeballistic / The Ballad Of Toe Fu / Golden Thumb
25: The Smuges/Tiny Pirate Problem/Curse of the Werefrog/ Magic Carpet Ride
26: Howdy Rudy/ Attack of the Rudisaurus/The Really Big Talent Search/ Livin' It Up
TV Movie
The Big Blow Up
Special
ChalkZone Christmas